The Villa ExteriorA beautiful villa set in lovely secure grounds with a private pool
Lovely grounds to enjoy the sun
La Casa Del Sol is south west facing and sits on a secure plot of 1000 square metres.
The grounds and gardens offer plenty of room for all to find a space to relax with a fabulous private swimming pool to cool off in. There is a choice of areas with sun or shade, a table and seating area and plenty of sun loungers to relax. There is a roof terrace for extra privacy and plenty of room for children to play safely.

The villa is situated in an established tranquil urbanisation with all you need close at hand.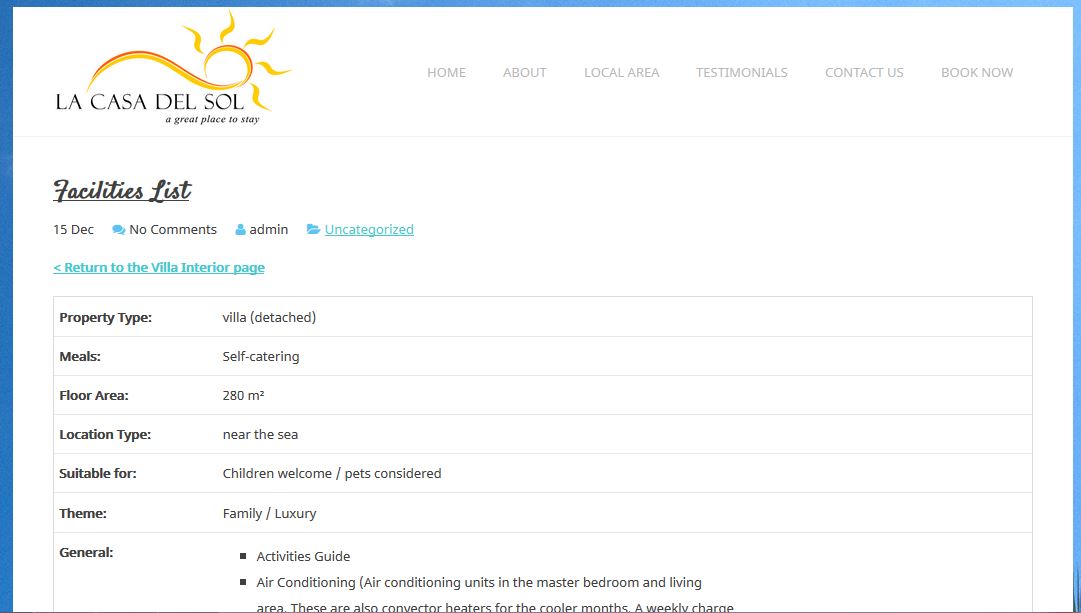 We have comprehensive list of outdoor facilities available to make planning your holiday a bit easier! Please click on the thumbnail to view the facilities list >
Need more information?
Why not send us an email or give us a ring – we are happy to answer any of your questions …
<
>
A Great Place to Stay

I spent a week at the villa in july with my teenage son and girlfriend. The private pool Is just fantastic, and we had a very relaxing week. The Location has lots to offer with the beach only ten minutes drive away. But we also just enjoyed the outside space and spent much of our time relaxing by the pool and preparing a BBQ in the evening. The Villa was clean and just as described, and the local manager was very helpful with all of our questions and requests. Just what we needed.... Will Be Booking again! Dave.

Mr P.

Maulden, Bedfordshire

A sanctuary!

We can honestly say we had a fantastic few days stay. The villa was very easy to get to and just 30 minutes from Alicante. We were very lucky with the weather and Le Casa Del Sol was very welcoming and comfortable. Best of all it felt like a sanctuary, completely away from it all. Once you'd closed the gates you were totally private and could forget the outside world and enjoy the fabulous pool. Having said that if you wanted to venture out you were in the ideal place to get to the beach and main shopping and restaurant areas. Torrevieja is just a ten minute drive away. We managed two rounds of golf during our stay and were amazed at how close the courses were. There's half a dozen golf courses within a twenty-five minute drive and Malaga is just 45 minutes. Le Casa Del Sol is golfers paradise and perfect for a group golfing holiday. I wish we'd had longer to play more. Needless to say we'd recommend hiring a car in order to enjoy the area to full. We should mention the Villa managers, Paul and Gill who greeted us on arrival and made sure we were happy with everything. They were very helpful and could advise on the area's best restaurants, supermarkets and places to visit. For a small charge they'd even arrange things for you and provide transport if required. Finally, thanks for a fabulous time and for allowing us to share your beautiful villa. We'll definitely be back...and with the golf clubs of course!!

Golfaholic

Edlesborough

Fantastic Accomodation

Had a very enjoyable 2 week stay with family, including young children. We spent a lot of our time relaxing around the pool area, and using the outdoor catering facilities. The pool was a fantastic place to cool of in from the warm sun, but also safe for the children to play around as it is raised up from the ground level. The interior of the villa was clean and tidy, and very nice for relaxing in as the nights got a bit chillier, and there was plenty of space around for us to all be able to do what we wanted without getting under each others feet. The beach was only a 10 minute drive away, giving the children something extra to do during the stay, and amenities are just a walk away, or a short drive for something a little more adventurous. The local agents were very helpful, and were available whenever we needed advice from them. Can't wait to book again and enjoy another stay at this fantastic villa!!

Banksy

Leighton Buzzard, Bedfordshire